Every year, in June, I take a few days off to travel to Milan to attend the Letterpress Workers Summit in Milan, a unique event gathering more than letterpress practitioners from Europe and US (blogpost about the event will follow next month). After a short train ride from Milan, we, a group of 10-12 people arrived in the city of Parma. The Bodoni Museum is only open till 13 o'clock and it is better to arrange an appointment before visiting, although it requires a certain knowledge of the Italian language. And we have to thank John Christopher (Flowers & Fleurons, UK) for contacting the museum staff.
Located deep within a massive building of the Palazzo Della Pilotta the Museo Bodoniano is the oldest printing museum in Italy. Although the concept of a museum hosting the treasures of Bodoni's Printing Office dates back to 1940, it was only opened in 1963, coinciding with the 150th anniversary of the death of Giambattista Bodoni (1740–1813). The Museum is situated on the third floor of the Palatina Library and today the Library's collection contains more than 708,000 printed works, 6620 manuscripts, 3042 incunabula, and 52,470 graphic prints. There is also a unique musical section of 93,000 books.
The work of punch-cutter and publisher Giambattista Bodoni need no introduction. We are all familiar with Bodoni's roman types. Thin, horizontal serifs, vertical axes, high contrast between thick and thin strokes and the main features of these faces. Beside being the Director of the Royal Printing House of Parma from 1768 until the end of his life, Bodoni was also on of the most prolific punchcutters in the history of printing. In the 1840 inventory compiled by his widow, his typographic material comprised more than 25,000 punches and 50,000 matrices. Such a massive number of steel punches cut by hand represents a truly colossal effort and absolute dedication.
The exhibition hall with a high ceiling is housing the majority of Bodoni's work represented in chronological order. The information provided is mostly bilingual, IT/EN. The punches, matrices, various tools, original sketches are arranged in the middle of the hall alongside to printing press. Original publications by others printers such as Aldus Manutius are on display as well.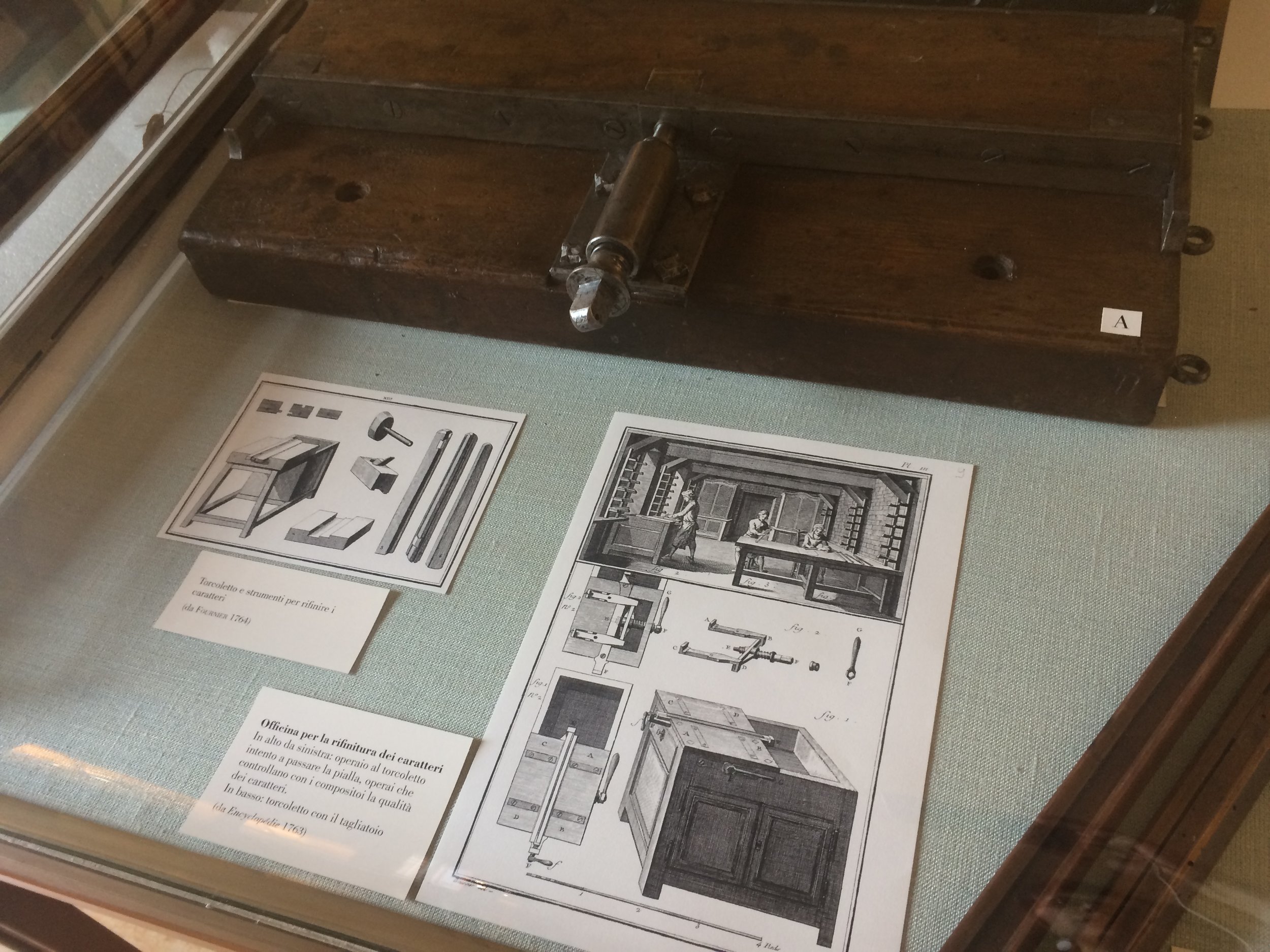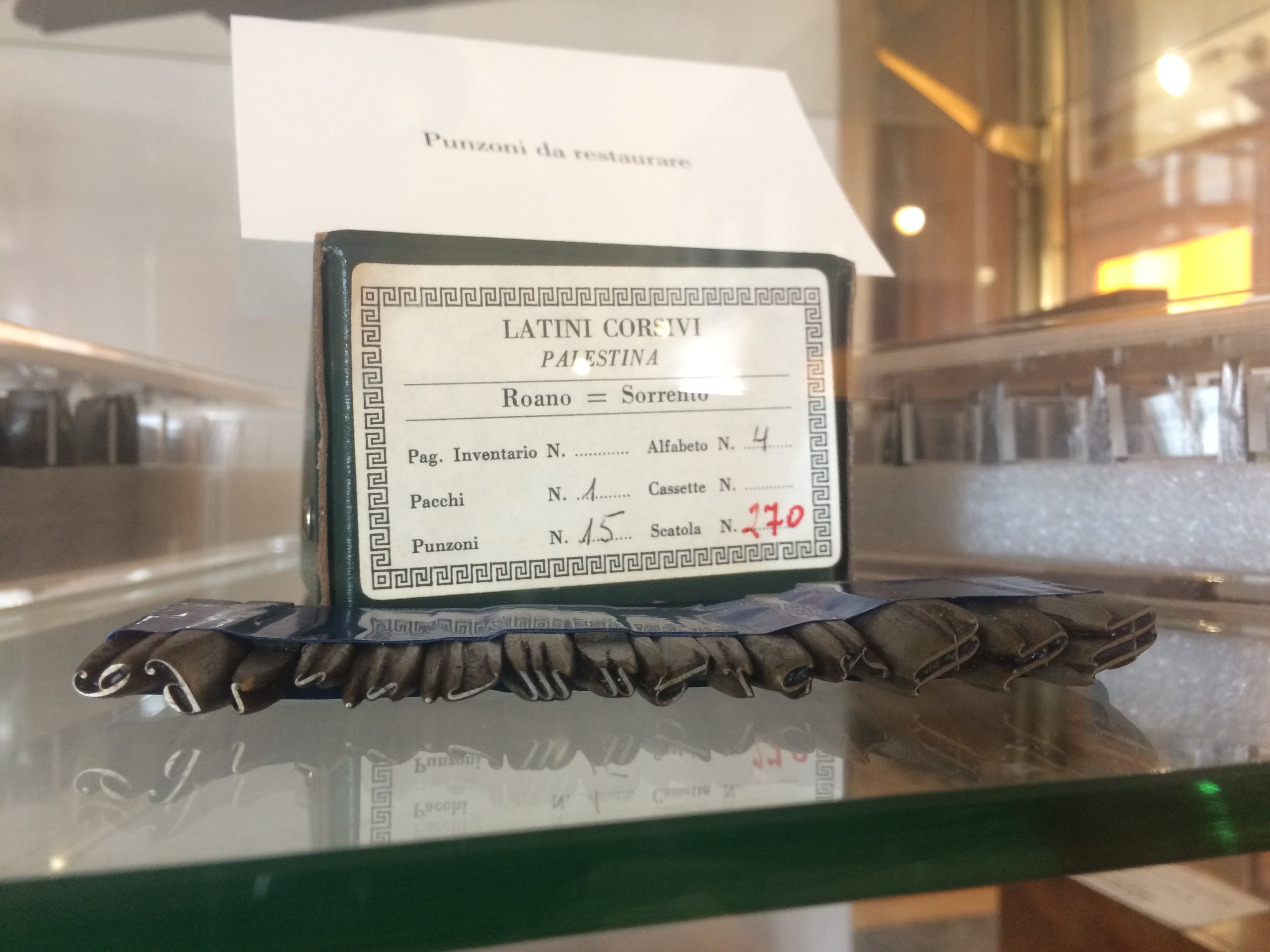 Bodoni is also famous for his many non-Latin faces which are displayed in the second volume of his Manuale Tipografico from 1818. Not just Greek and Cyrillic scripts, but also many Hebrews, Arabics, Armenians, an Ethiopian, a Tibetan etc., etc. In his multi-language books with truly harmonious and beautiful pages he strived to fuse the calligraphic traditions to reach perfection.
The typeface that retained the Bodoni name appeared in 1790. Of the many books that he produced during this period, the best known is his Manuale Tipografico (1788; "Inventory of Types"), a folio collection of 291 roman and italic typefaces, along with samples of Russian, Greek, and other types arranged by type-size, from the smallest to the biggest. Although the book Manuale Tipografico is a major work of the great typographer he did not live to see the second volume being printed: his widow Paola Margherita Dall'Aglio Bodoni (1758 - 1841) and his foreman Luigi Orsi completed the edition and published it five years after the master's death.
Margherita picked up where her husband left off, completed the French classics, and then published in two volumes. It was over 600 pages long and contained 265 pages of roman characters, "imperceptibly declining in size, romans, italics, and script types, and the series of 125 capital letters; 181 pages of Greek and Oriental characters; 1036 decorations and 31 borders; followed in the last 20 pages by symbols, ciphers, numerals, and musical examples". Somebody should honour the widow of Giambattista Bodoni the brave Signora Paola Margherita Dall'Aglio for her effort to complete the Manuale Tipografico after his death.
Many of us remember Bodoni for his Latin font widely used in publications today, but I think his work on non-latin scripts is what may be increasingly important in today's world.
you might also like
Visiting Familia Plómez in Madrid
Trip to Amsterdam. Makers Match & GWA.
Museum 't Aloam
Zomertyposium 2017 / 2018
Letterpress Amsterdam
Print Me Baby One More Type or LpW 2017
Visiting the London College of Communication
St Bride Foundation Wayzgoose 2017
Trip to Barcelona. Part I. Lauren Press
Trip to Barcelona. Part II. BunkerType
Bookbinders' Fair. Sint- Niklaas, Belgium