Last Sunday I attended an exhibition of the artist Sam Scarpulla (Ghent, BE), who presented his recent work, the 'Lightning Guitar', a graphic novel consisted from 34 large square linocut illustrations.
Mounted in transparent frames and exhibited in a row on the rough brick wall at the Kapow headquarters in Ghent the large black and white prints formed a striking contrast with the venue. I arrived just in time when Sam Scarpulla enthusiastically led the group of visitors explaining the (partially autobiographical) story behind the novel. 'Lightning Guitar' graphic novel is about the career and the road to success of a guitarist with all associated challenges, ambitions, failures, self-destruction and love. Each of these 34 illustrations was carefully cut by Sam out of lino and printed on Albion or Columbian handpress by Erik Desmyter at the Iron Handpress Studio and published by Sous-Sol Editions in Ghent.
Sam Scarpulla & Erik Desmyter (images by Erik Desmyter)
Sam Scarpulla (1985) is a Ghent based contemporary artist deriving from the global street art movement. Sam who has American, Sicilian and Belgian blood running through his veins, grew up in an artistic family in Italy and studied graphic arts in Ghent, Belgium. Working with range of materials from pencil to paint Sam did engage himself in various activities from painting murals & canvases in the US, Europe, Africa, and Asia to fashion fair in Düsseldorf where he did some live painting in the cozy stand of Team O'Neill. But above all that he has a natural passion for linocut, the techniques he mastered to perfection.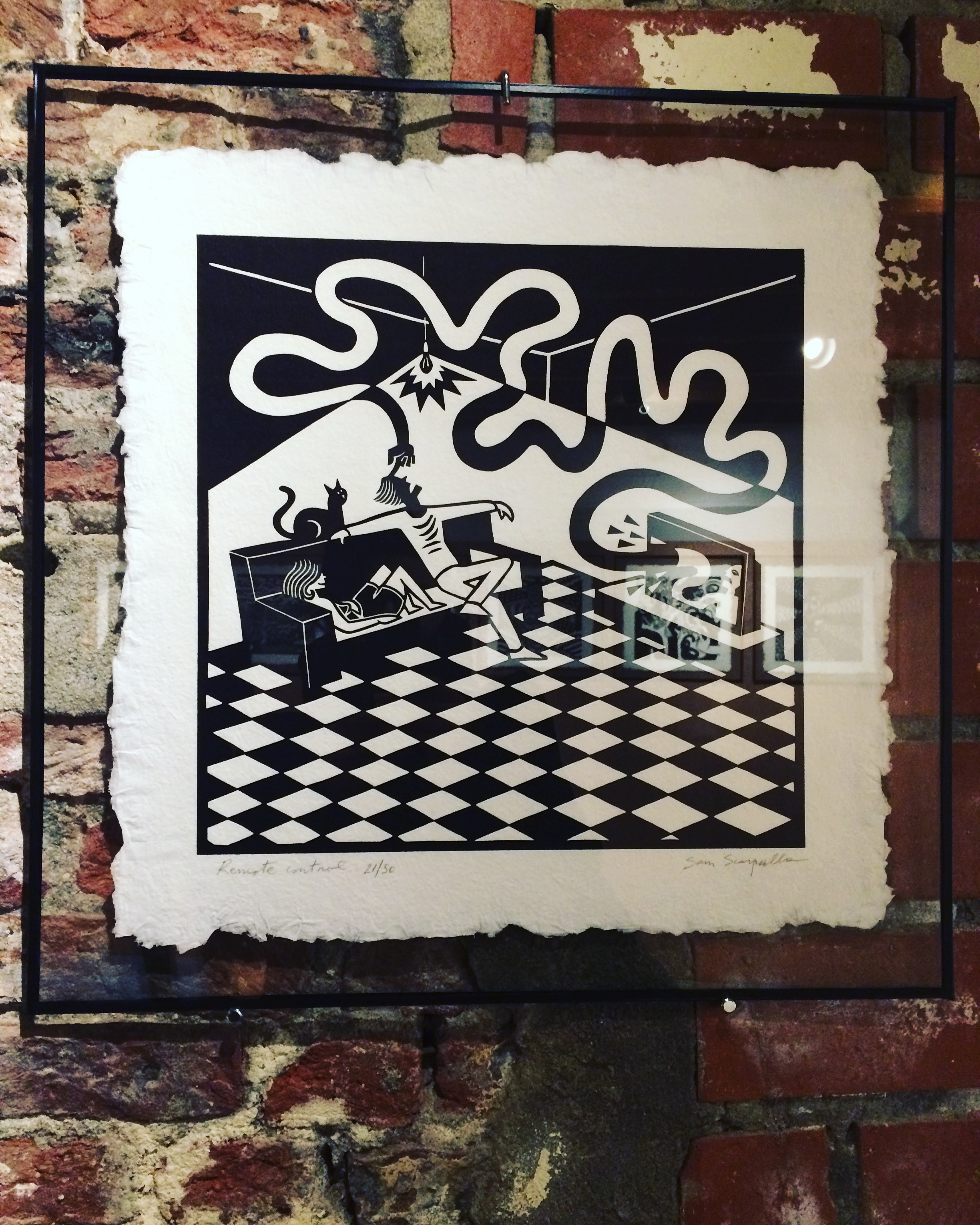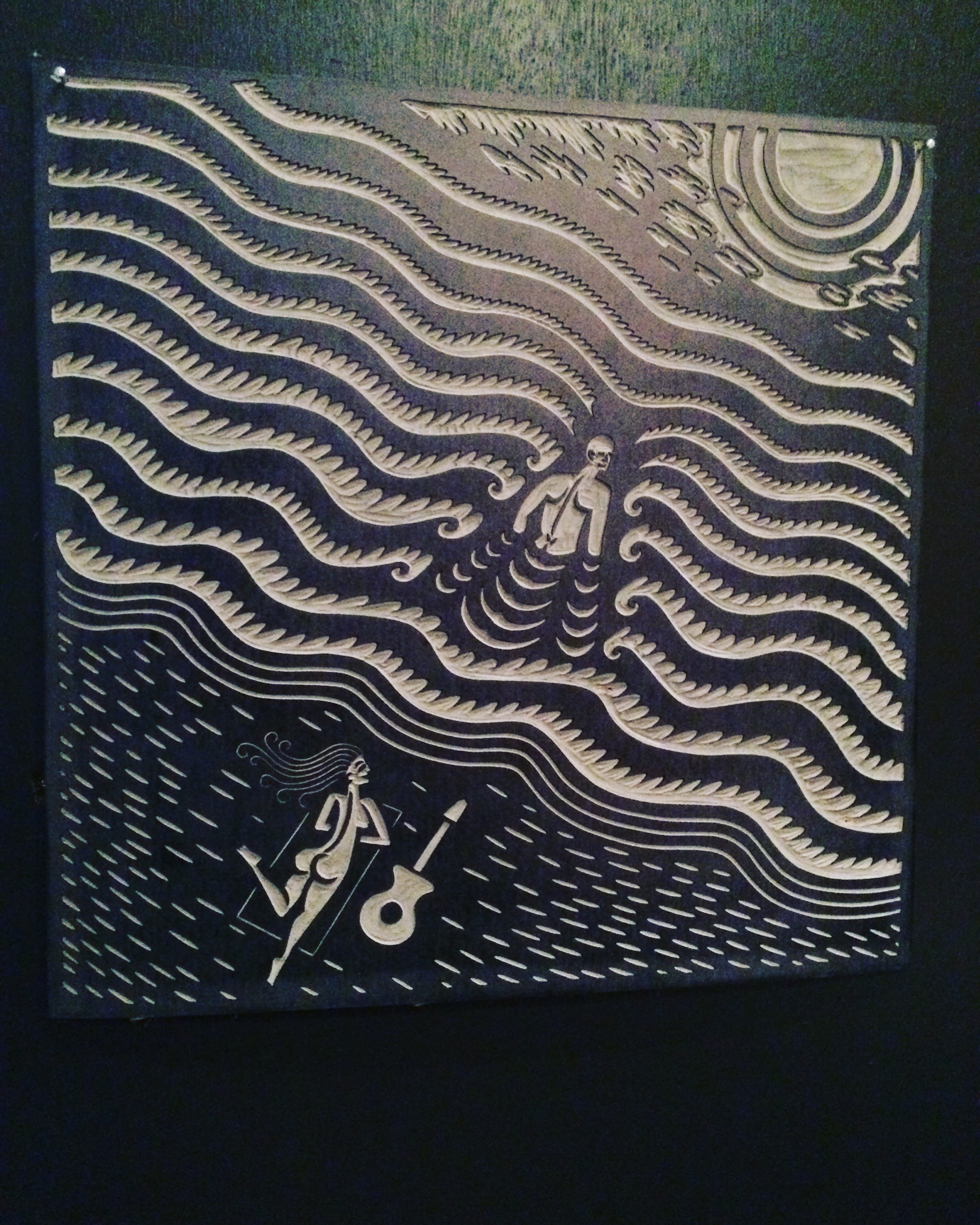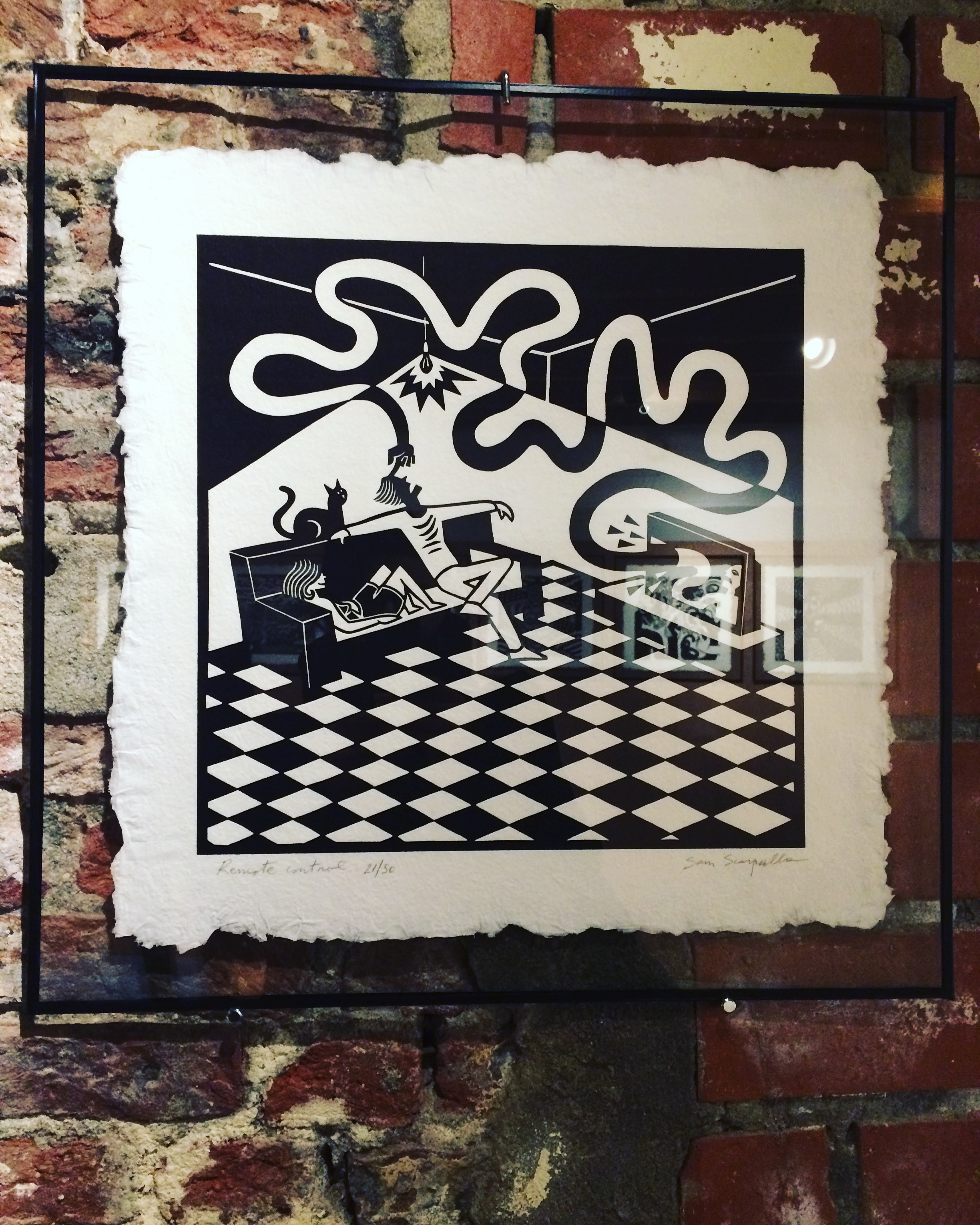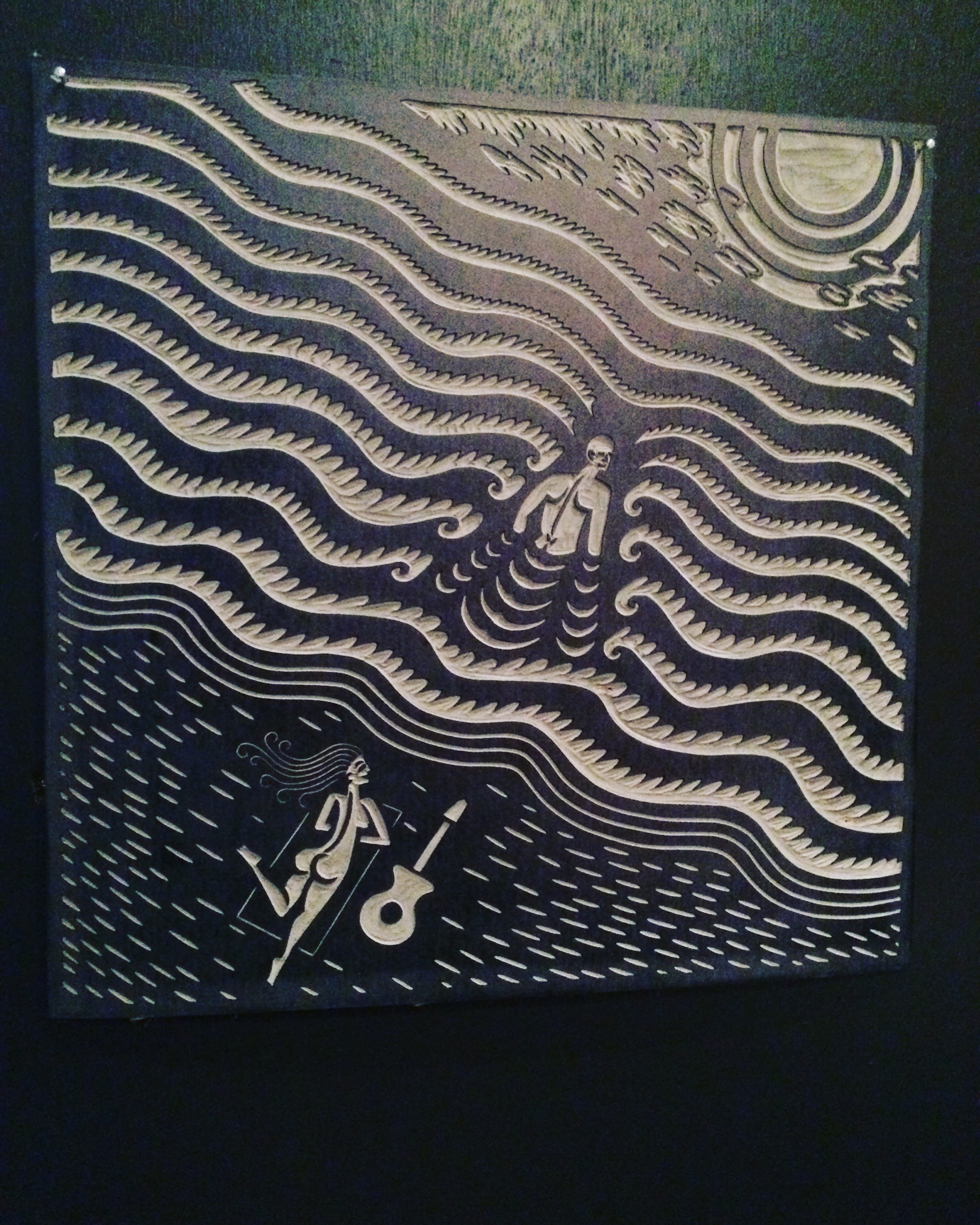 34 illustrations of 'Lightning Guitar' printed in just black and white defining a linear expression of emotions of the novel's protagonist's career and the road to success, ranging from brutal 'Temporary Suicide' and 'Lavishness' to lyrical 'Sunset Escape' and sensual 'Musical Seduction'. These are beautiful, dramatic pieces of work that showcase some of the best of Sam's linocut work. And although some of his images may have a humorous and joyful feel, there is always a hint of social commentary in his often playful work.
I do like the balanced black and white compositions he achieves in his work, it has unique graphic and bold quality. Sam Scarpulla's latest linocuts are a fantastic example how the medium can enrich this style of illustration.

'Lightning Guitar' exhibition:
Friday 27, Saturday 28 & Sunday 29 January
Friday 3, Saturday 4 & Sunday 5 February
from 14:00h till 20:00h (or by appointment)
Kapow
Huidevetterken 24
9000 Ghent, Belgium
Limited edition of 50 (42cm x 42cm) prints per linocut, signed and numbered by the artist in pencil are available for sale. The first 10 serial numbers (1 to 10) of this graphic novel are sold as "Collector's Edition" as complete packages of each 34 prints (or the complete graphic novel) in a luxury wooden engraved box. Serial numbers 11 to 50 (of each of the 34 different prints) are sold as individual prints and partially available for purchase from Sous-Sol Editions webshop.