Last Sunday the city of Gent, as well as other cities in Flanders and Brussels, was celebrating the Heritage day (Erfgoeddag) which is held annually on the first Sunday after the Easter Holidays. Each year a theme is chosen and this time it was all about rituals. The museums, archives, documentation centres, libraries, local heritage centres and organisations dedicated to folk culture open their doors to the public (free entrance) which results in a diverse selection of activities. And this year was no exception.
This time the MIAT organised different events dedicated to the rituals and coffee, such as various cupping workshops, guided tour through the recent 'Amai, email!' exhibition, dance performance, enamel workshops and so much more. And the printing presses were working through the whole weekend as we were making posters for the occasion.
While brainstorming we (me and Marie-Alice Boshoff, both volunteers at the MIAT) decided to make a poster about coffee and set it in the dialect of the city Gent, which I must admit we are not very fluent in:) After diving into the various literature covering the dialect issues available at the museum's library and a lot of giggling, we stumbled upon 'Nog een potse truust?' (One more cup of coffee/comfort?) - an expression known to the most of people living in Belgium. While Marie-Alice was making a lovely linocut inspired by an enamel coffee pot and cutting out the sun to recreate the morning ritual of drinking coffee, I've been keeping myself busy with a letterpress forme.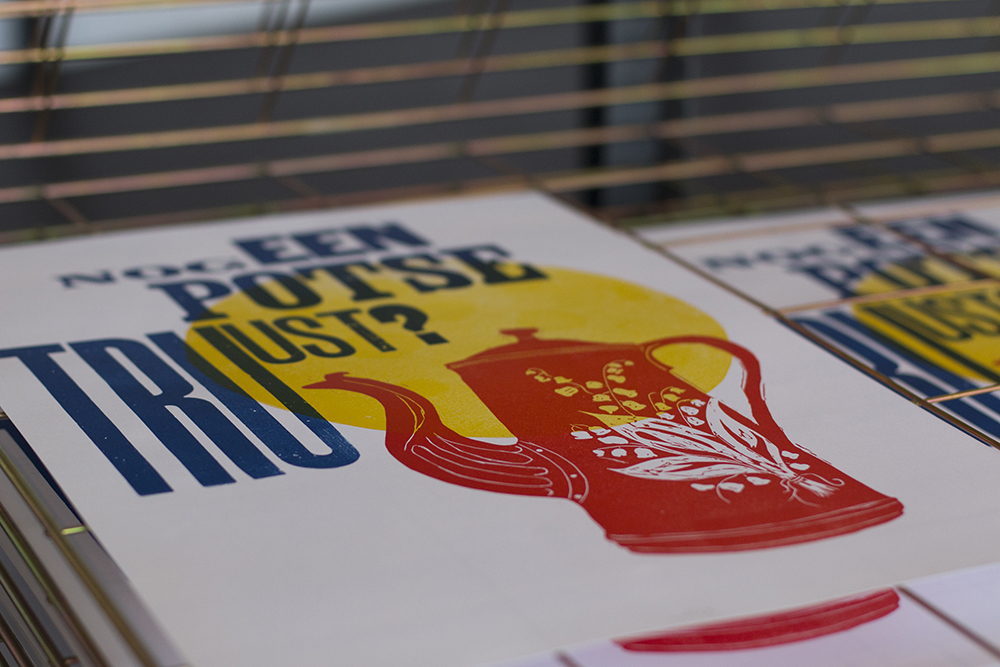 150 copies of 3-colour letterpress printed poster (35x50cm) were printed, signed and given to the visitors during the Heritage day. We had a lovely time and I hope the public enjoyed it as well:) Nog een potse truust? ;)